Omantel and UNICEF join hands to advocate for the well-being of Children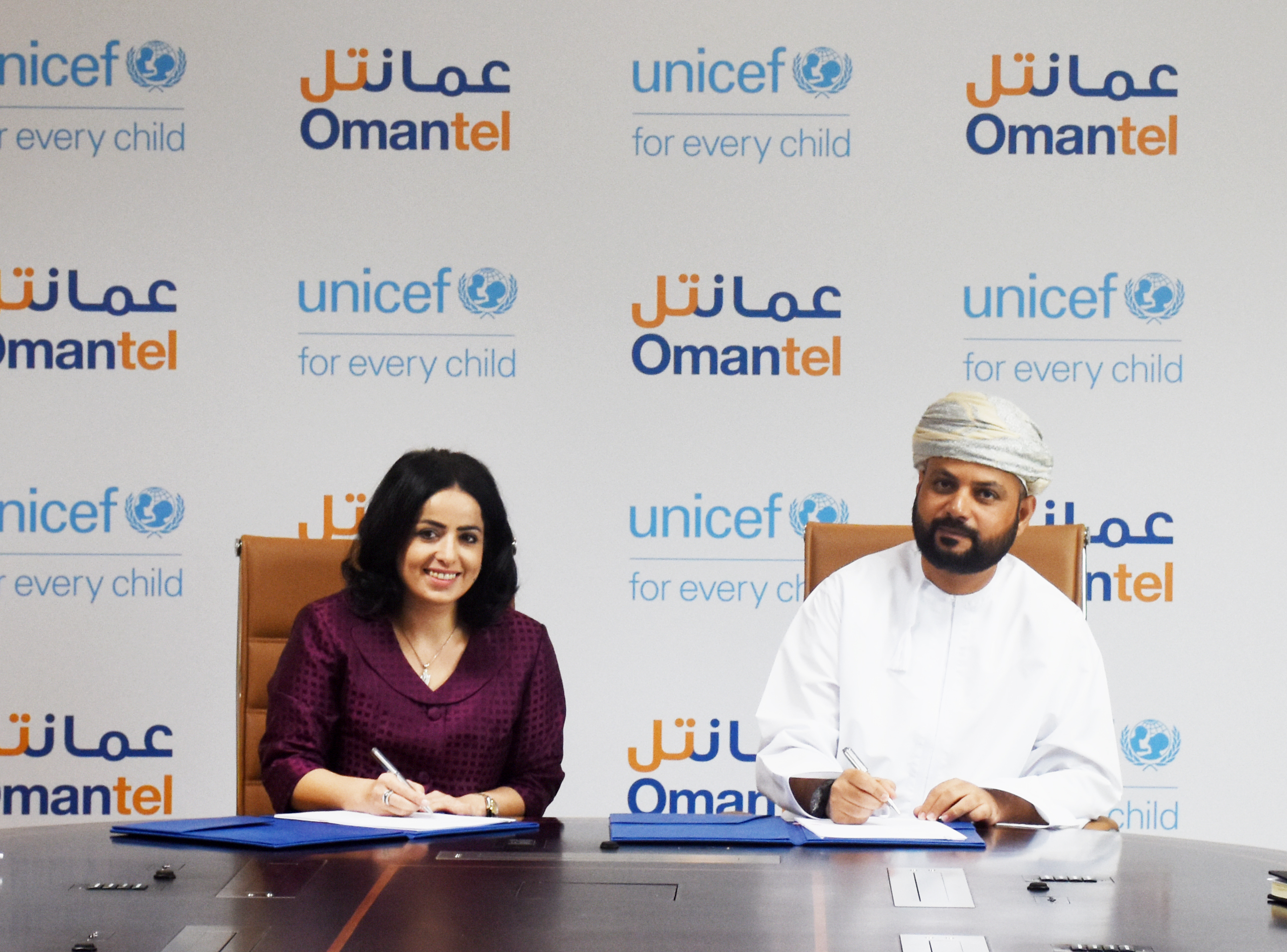 Omantel – the first and leading provider of integrated telecommunications services in the Sultanate – has joined hands with the United Nations Children's Fund (UNICEF) by offering its smart telecom solutions to help the organization have a more innovative approach in addressing the health, nutrition and education of children in Oman.
The agreement comes in line with the Sultanate's and UNICEF's visions to improve the well-being of children and provide them with the highest level of healthcare, education, and civil and legal rights, as per the Sustainable Development Goals (SDGs) where children are at the heart of the agenda.
Talal Al Mamari, CEO of Omantel, commented "The Sultanate has made remarkable achievements in protecting children's rights, and these achievements have eventually lead to issuing the Child Law in Oman which was a milestone achievement. Likewise, health, educational and social services offered to children have been enhanced and further developments are ongoing."
"As a national company that strives to implement its well-established telecom infrastructure in developing every aspect of life in Oman, we are glad to cooperate with an international organization like UNICEF that makes tremendous efforts to better the outcomes for children around the world. We will make every effort to support UNICEF and our government's sustained initiatives in enhancing the well-being of children in Oman." He added.
In a changing and increasingly digital world, maximizing technology and media is one of the most effective methods for spreading awareness and enhancing learning opportunities for communities. The Omantel/UNICEF partnership will improve access to information regarding health, nutrition, education and child-protection, while pushing forward various innovative projects supported by UNICEF. The partnership will utilize Omantel's wide-reaching communication channels to share knowledge on positive rearing practices and factors that produce better results for children in the Sultanate, and will be a particularly helpful tool for parents and caretakers.
Lana Al Wreikat, UNICEF representative in Oman, said "It is very important to us at UNICEF to have this partnership with Omantel, and I want to thank them for their commitment to children in Oman. Our engagement with the private sector, especially those like Omantel who offer a public service and have exceptional technologies and data capacities, serves to support the children's agenda and help achieve the 2030 Global Goals. This agreement is a great example of a growing movement of the private-sector building partnerships to champion for children's rights. The expertise from Omantel will help us invest in what we know works for children, and build on Oman's progress towards good health, well-being, and quality education – part of our commitment to the Sustainable Development Goals. Children are at the heart of the SDG's and will be the most affected by the decisions we make today, so it is vital that we continue moving forward together, learning from each other, and scaling-up what works."
Investing in the future of the nation, Omantel connects even the most remote communities of the Sultanate to each other and the rest of the world. Omantel is the Sultanate's first and leading integrated telecommunications services provider, enabling the digital society to flourish, allowing new ways of doing business and delivering a world of information, news and entertainment.